Guest poet Shoalhaven Poetry Festival 2007
Guest poet South Coast Writers Centre for National Poetry Week 2009
Spineless Wonders presents 'a short evening of tall stories' at the Wheatsheaf hotel in Adelaide on Feb. 7 2012, hosted by Caroline Reid: 'The Gardener' was read by actor Tamara Lee
Read Susan's interview with Spineless Wonders here
Short story manuscript shortlisted for Varuna Publisher Fellowship 2012
Guest poet at Bundanoon's Winterfest, July 2012,with Ron Pretty and Victoria McGrath
Story 'Down Came A Blackbird' shortlisted for the 2012 Overland/Victoria University short story award for new and emerging writers ($6000 prize). Over 630 entries, nineteen on shortlist
Poetry collection Waiting for the Southerly launched by Richard Morecroft on 17 June 2012 at the Thirroul Railway Institute heritage building, with MC Linda Godfrey, and guitarist Bruce Greenfeld. To purchase, go to 'Home'
Waiting for the Southerly received a Commended in the Anne Elder Award 2012 for a first book of poetry
Awarded an Australian Society of Authors Mentorship 2013–14 for short story collection
Awarded a Varuna PIP Fellowship 2014 for short story collection
Flash fiction piece 'Hold-up' on screen at Federation Square, Melbourne, during the Melbourne Writers Festival, August 2014 (Flashing the Square)
Take a look at 'What I'm reading' on Meanjin's blog November 3 2014 here
here is an interview with Margaret River Press (2015)
Loopholes – Susan's collection of microfiction – was published by Spineless Wonders, thanks to an Australia Council of the Arts grant. Release date 1 December 2016.
Here's a great review of Loopholes from Books+Publishing – 4 stars! (click on the image to read). Also one from NSW Writers' Centre Sept '17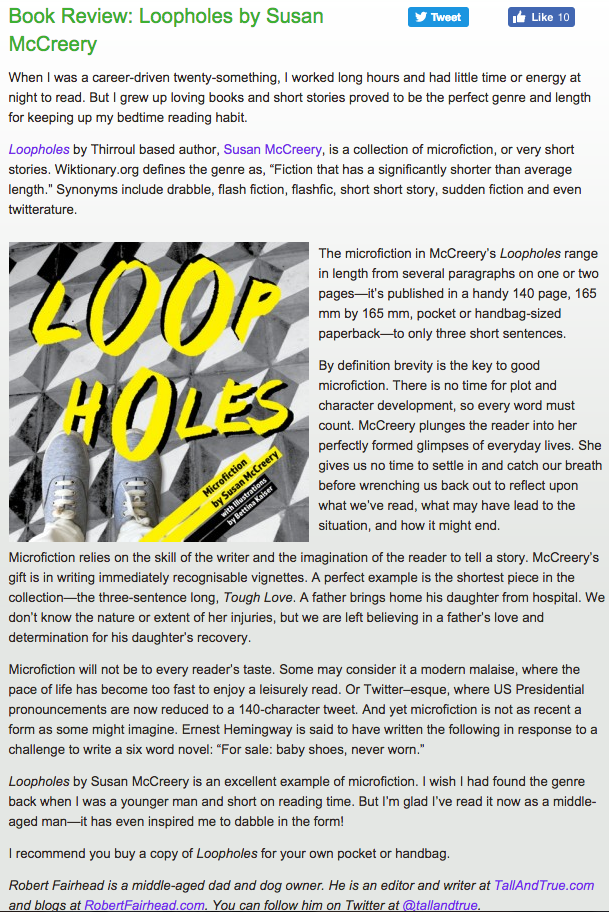 Appeared at the Newcastle Writers Festival 2017 – a panel on Reading and Writing Microfiction, with Jon Steiner and Richard Holt. Loopholes was launched by Carmel Bird. Details here
Loopholes shortlisted for the Most Underrated Book Award (MUBA) 2017. Details here of the event and the shortlist.
This Person Is Not That Person (short story collection) will be published by Puncher & Wattmann in early 2019.
Keynote presenter at the inaugural Flash Fiction Festival, Canberra, April 2018.
New microfiction forthcoming in Shuffle, the latest anthology from Spineless Wonders, edited by Cassandra Atherton, and a short fiction piece will appear soon in Verity La.
Photos of launch of Waiting for the Southerly, taken by Tim Dennis www.timdennis.com.au